Winning Colours Farm does nothing by halves.
When searching the globe for a dilute thoroughbred mare
we had strict criteria for the mare to meet.
Pretzel (USA)
2007 Palomino JC & ASB Thoroughbred mare ee nCr AA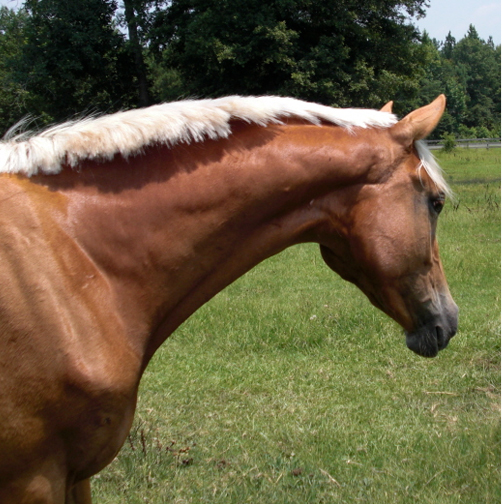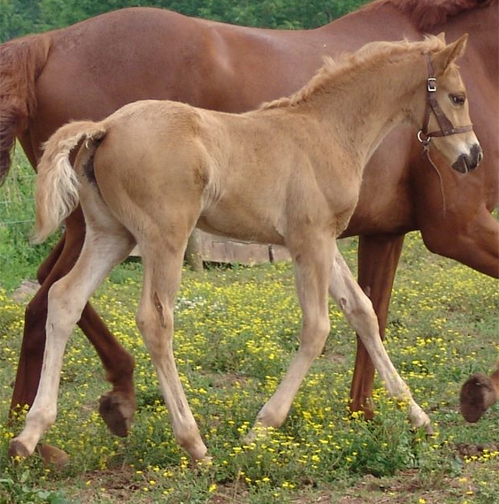 Winning Colours Farm does nothing by halves. When searching the globe for a dilute thoroughbred mare we had strict criteria for the mare to meet. Our criteria included the best race pedigree of any thoroughbred dilute, a proven performance pedigree, a lovely balanced type that could excel in the show ring and a temperament to cope with the demands of all the above disciplines. We did not limit ourselves to what was for sale. We looked at every single thoroughbred dilute mare ever bred. After extensive research we were keen to track down a 3yo filly named Pretzel. Our research uncovered that
She is out of a racewinning mare with stakes of USD$19,000.00. Dams full sibling also a racewinning mare of USD$54,000.00 in stakes.
Her maternal sire, Thunder Puddles (USA) a multiple Group winner of $750,000USD. Broodmare sire of 91 starters 57 winners(63%) and USD$4.7 million
Her second dam is a racewinning mare who is also by a Group winner
Her third dam unraced is by a USA Champion Turf Horse Of The Year
Her sire line also just as impressive. She is a daughter of the renowned and accomplished Dilute Thoroughbred Stallion GP's Krugerrand. A performance stallion of noted unflappable temperament and World quality. Himself being out of a four times racewinning mare. Kruggerands sire is none other than the most accomplished dilute Thoroughbred stallion on the Planet, Glitter Please. Glitter please is an FEI dressage stallion of Grand Prix level. Glitter Please is by G2 winner Jack Sprat and grandsire Prince John is by Princequillo (IRE) - both super sires in the world of racing. Prince John leading broodmare sire in USA four times and second twice. Princequillo (IRE) leading sire in USA twice and leading broodmare sire 8 times. He is the broodmare sire of SECRETARIAT.
After many emails and phone calls we tracked down Pretzels owner. He was an elderly gentleman with no computer knowledge or email address. Communicating to South Carolina was finally organised through a friend in New Jersey who could use email! We had previously located foal photographs of Pretzel which more than impressed and we were very keen to see if the 3yo Filly lived up to in type and temperament all that her pedigree suggested. We could not have been more delighted upon viewing 3yo Pretzel. We instantly knew this was the mare WINNING COLOURS FARM had been searching for.
Not only did Pretzel meet all our criteria, her dilute (palomino) attributes were of the very best you can get. Her coat is the deepest gold with the whitest mane and lovely thick tail - just like her grandsire, Glitter Please. And no smut spots. Qualities that DO matter for a dilute!
After some negotiations Pretzel was purchased by WINNING COLOURS FARM, however, our mission was not yet complete. We wanted to have Pretzel covered before the air flight to Australia. We required a Stallion with a proven and World class pedigree, and of course colour! We narrowed the field to three thoroughbred stallions before settling on what we believed to be the best. This guy has a serious racing pedigree and with his fabulous conformation it didn't take long to decide on Painting Freedom. Painting Freedom's weanling progeny have already sold for USD$80,000.00 out of modest mares, confirming his World Class quality and appeal.
The only unfortunate thing about choosing Painting Freedom is that he was on the other side of the United States to Pretzel. Pretzel had to be trucked from South Carolina to Oregon. A greater distance than Sydney to Perth. With a 'box' stall on the truck she faired the journey well and with expert care she was covered and settled in foal just a few weeks after arriving.
So now the wait is on to see just what we get colour wise. With Pretzel and Painting Freedom such superb individuals even without their unique colouring we know the quality will be superior. However we are hopeful of a unique coat colour. Breeding for colour without compromising temperament or performance ads a new element to thoroughbred breeding and certainly ads excitement to our life. We hope you join us!
17 March 2011: Pretzel has foaled an outstanding quality colt foal on St Patrick's day from her USA covering. The luck of the Irish has
shone down on us as he has colour and LOTS of it! This colt would be a knockout even as a bay but with his unique coat
pattern he is remarkable.