He will be standing at Montana Park located in Maleny, south east QLD for the upcoming breeding season
GLACIAL GOLD (USA)
2008 ASB Cremello Thoroughbred Colt ee CrCr aa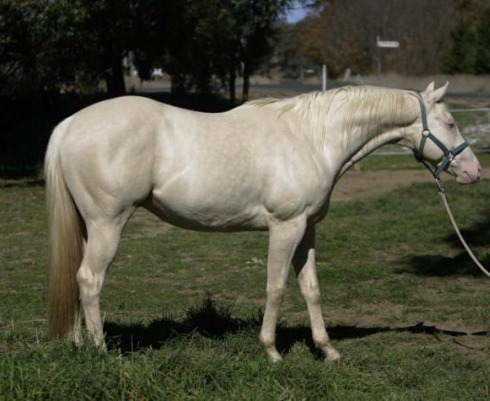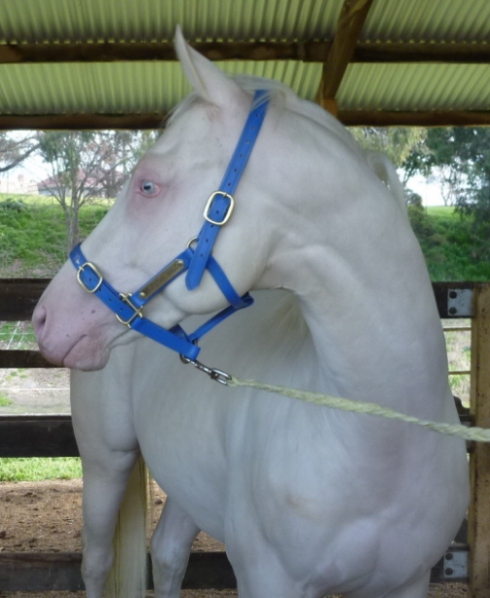 Your foals deserve to stand out and shine. With Glacial Gold they will everytime! He is the most promising cremello Thoroughbred in the World today.
With perfect legs, excellent rump, wonderful neck & length of rein and his head is SUPERB. As you can understand we are really impressed with this colt. His unbelievable foals are evidence of his quality. Testament to this owners are loving their 'Buzz' babies so much that we have more repeat clients than not. Be warned you won't want to stop at one either!!! He is addictive.
Glacial Gold has NO agouti genes which means that you can actually "order" the exact colour of foal you want using the right coloured mare. You can be guaranteed a palomino foal, guaranteed a buckskin or EVEN GUARANTEED A RARE SMOKEY BLACK THOROUGHBRED! (a black horse with a gold gene). These will be some of the first ever dilute (gold) thoroughbreds born in the Southern Hemisphere. They will be the standout and have an edge when hitting the sales ring and Thoroughbred Hack rings.
Race enthusiasts will be interested to know that although Glacial Gold's dam & her siblings are unraced (due to rare colour), he comes from a strong and proven distaff line littered with black type. His second dam is an 8 times race winner and is by Hatchet Man – twice Group 1 winner, Group two winner and 10 wins in total with stakes of USD$359,490 (a huge amount of money in the early 1970's which would be equivalent to Millions today). Her three half sisters are all winners also and EVERY SINGLE ONE OF THEM went on to produce black types!!! - CAFE DANCER $323,535; GALLO NERO (FR) $242,900; FAST SLEWZY $172,724 & Six Sense $159,986. This shows the tremendous quality of the distaff line.
His third dam MACHINE (ARG) a G3 winner and came second in another 3 x Group 3 races with her sire MANTECON (ARG) also a black-type winner.
His fourth dam, MA COCOTTE (ARG) is Group 1 winner. She has a 5S x 4D inbreeding to The Tetrarch (GB) also known as 'The Spotted Wonder', unbeaten 2yo Champion in England (7 starts 7 wins). Timeform rated him the Worlds No.1 two year old for the 20th Century.
Due to Glacial Gold's sirelines being the "colour lines", not many on his immediate sireline have raced. Of the ones who have raced, they have done well. His grandam's sire Social Wizard (CAN) is a stakes winner. His sire, Snow Twist (ARG) is also a black-type winner and set a new track record at Panama, 6f in 1:10.2; and 5 1/2f in 1:04.1. Distintiva (CHI), the granddam of Guaranteed Gold, was Champion older mare in Columbia (1981) - Group 2 winner and 8 wins at 3 & 4
With Glacial Gold's athleticism & musculature, coupled with his type and head, his offspring are outstanding and are paving the way for stardom for far more than just their shimmering gold coats. Pedigree Analysis had determined he should prove a great match for for Danehill & Mr Prosepctor mares. Some amateur first pics of him can be seen here.
Glacial Gold's book was open to only FIVE outside in 2010 season and he is limited to 15 for 2011 & 20 x 2012 season. He was booked out every year. His numbers were reduced for 2013 due to our young family and commitments. Currently, his numbers are strictly limited to ensure your foal stays rare and valuable. 
Where Does The Colour Come From?
From the earliest of beginnings there were dilutes in the Thoroughbreds of Great Britain. The earliest recorded being Darcey's Yellow Turk 1665, and his dam Sedbury Mare in 1660. One of Darcey's Yellow Turk's decendents is Cream Cheeks born in 1690. Her descendant Silverlocks went on the produce several dilute Tb's by the noted Godolphin Arabian. One of these, Buffcoat, was exported to America. Like Cream Cheeks, Silverlocks progeny also went on to produce a myriad of dilutes.
Glacial Gold's colour traces back to his Great, Great Grandsire's Dam, Tootsie. Born in 1946 and registered as dark bay (described as brown). She must have been smoky black or a dark brown buckskin. Her parentage-verified son (by a bay sire) was palomino. It is not known which of her parents was the dilute. Her sire Onomea was registered as chestnut, though palominos always have been registered as chestnut. Her dam, Hekuni was registered as brown and also could have been a smoky black or dark buckskin. There is no way of knowing without pictures or tests.
Interestingly, the maternal sire of Onomea is named 'Gold Oak' and his sire is named 'Gold Heels' – could this be a clue? Gold Heels pedigree traces back to Goldfinder who traces back to Cream Cheeks. Perhaps this could be the dilute link??!

 Now At Montana Park, SE Qld, - Enquire Now!