Now Standing at Stud with Kerrie Bowman
in Millicent SA 5280 ph 0417847662.  His fee much reduced so enquire now!
Email kerriebowman@hotmail.com
2006 ASB Bay Frame-Overo Thoroughbred Colt
There's never been a better time to breed and own your very own star studded thoroughbred that gets everyone's attention.  And with the type, talent and temperament to WIN in any discipline. 
HEIGHT, SUBSTANCE, STRENGTH, ATHLETICISM, CHARACTER, COLOUR.......
RACEWINNER, ROYAL SHOW CHAMPION, A GRADE EVENTER, BEST MATE.....
.........the choice is YOURS!.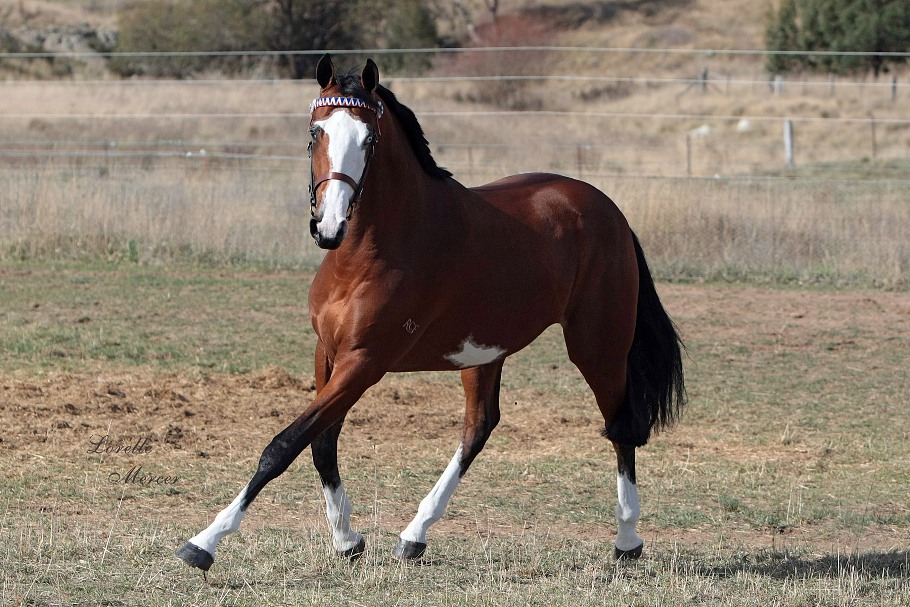 Profile In Style (USA) is unique. He is the first frame-overo (coloured) thoroughbred Stallion in the Southern Hemisphere.  Registered with the Australian Stud book he\'s a pure thoroughbred with what is known as a \'crop out\' colour gene.  His impressive pedigree, type, height and athleticism sees his babies with versatility and value.  He\'s a one in a million - literally.    
Profile In Style (USA) offers: ·        
Rare colour gene with coloured thoroughbreds in demand and worth $$$.  Coloured weanling filly Arctic Brite sells at Keenelands for USD$80,000.00.  Her sire and grandsire unraced and dam with only a maiden win & $1,239 in prizemoney! ·        
Star studded show horse qualities. Breed a showhorse or give your racehorse a showhorse aftermarket. Showhorse prices regularly fetch in excess of $40,000.00. EVEN THE GELDINGS! ·        
Unbeatable conformation with his progeny cleaning up in the show ring.   ·        
Movement, movement, movement!  ·        
Easy temperament passing on to foals.    ·        
World class racing pedigree and member of the dominant HALO sire line that has produced racing superstars Phelan Ready $3.2Million & Sebring $2.5Million.   Out of Dance Dub L - grandaughter of legendary SECRETARIAT.  THE HALO / SECRETARIAT CROSS IS G1 PROVEN. ·        
Registered with the Australian Stud Book, Paint Horse Association of Australia, American Paint Horse Association, Australian Stock Horse Association AND American Jockey Club.  Thoroughbred foals eligible triple registration including registration into the main Australian Stud Book. ·        
Unraced freshman sire therefore INCREDIBLE VALUE.  ·        
Proven sire with foals that are in demand. 
Profile IN Style now Stands Millicent SA 5280 ph 0417847662. or Send Mail
Sire: Ellusive Quest Sonny's Solo Halo (true black & unraced) by Halo 31-9-8-5 $US259,883. Halo sired Sunny's Halo 20-9-3-2 $US1,247,791; More Than Ready & Sunday Silence 14-9-5-0 the winner of the Preakness and Kentucky Derby and $US4,968,554. Sunday Silence the Grand Sire of the 2006 Melbourne Cup winner, Delta Blues (JPN).  More Than Ready sire of 2009 G1 Golden Slipper winner Phelan Ready $3.2Million & 2008 G1 Golden Slipper winner Sebring $2.5Million. Sonny's Solo Halo out of Softly $US112,568 who produced 100% winners to runners including Rock Softly $US346,925 and Afleet Fatale $US88,863.  Sonny's Solo Halo sired Halo Passer who won Apple Valley Sprint Championships, City of Spokane Handicap, Inland Empire Speed Handicap and $US116,196; and Pieceoftherainbow $US67,739. Ellusive Quest's racing career was cut due to the untimely death of his brother Racey Remarque. He subsequently had to fill his big brothers shoes in the breeding barn. Ellusive Quest ran fourth in his only career start, and was first out of 27 racehorses in an official time trial at Turf Paradise.   His dam's full brother Nite Spot stands at the World renowned stud Gestuet Falkenhorst in Germany.
Dam: Dance Dub L by Shantariat - unraced, by Secretariat). Shantariat Maternal sire of winners of over USD$210,000. Secretariat 21–16-3-1 $US1,316,909. Out of Dance Spot  $US47,925 by Dancebel  $US200,600. Dancespot is also a full sister to Living Dreams $US147,000.  Dance Dub L is  D.V.M. Nancy McEarchern's very own riding mare (the founder of Colorworld Ranch USA). 'She has a temperament to die for' as Nancy herself put it.  

Please fill in the application form to nominate your mare this coming season.
Feel Free to call (02) 63379269 to discuss your
future foals colour possibilities or anything else.