Quality doesn't cost....it pays!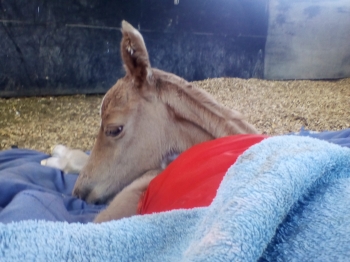 "Anna"
2018 palomino ASB filly
Poor Anna was born premi and her dam a placentits. She couldn't stand for the first six days of her life, being very small as she was a twin (yes, unfortunately this one slipped through the radar). Her dam had ran out all her colostrum and it was a big effort by all to have her pull through. See her picture on the back seat of the car going to get her plasma. Pleased to say she is now running around full of life albeit a little on the small side.
Anna has a wonderful pedigree having an intense duplication of the Group 1 winner and Tale Of The Cat son, Lion Heart (USA). She has genetic material that won't see its potential due to environmental reasons, though she will be an asset as a broodmare or riding horse in years to come. Race she will not however.
I do love her as I fed her for six days straight every 1.5hours. She has a special spot in my heart. I am so proud of her pulling through she really did want to live. RIP twin brother Jackpot (he was the second twin born and a red bag delivery, dummy foal also) you will never be forgotten and your DNA lives through your sister.