Quality doesn't cost....it pays!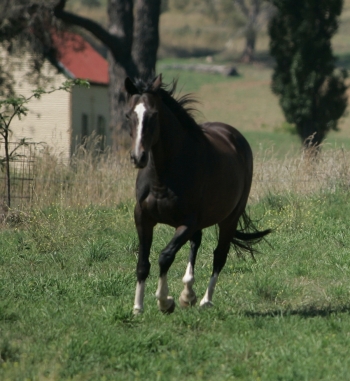 Areyoutalkintome (NZ)
2007 imported ASB mare
What an outstanding dark brown New Zeland mare and with four white legs and face to top it off!
Sired by the Storm Cat son - One Cool Cat (USA), who is out of a Mr Prospector mare who is in turn out of a Northern Dancer Mare. Of course Storm Cat was the most expensive Thoroughbred Stallion to obtain a service to in the History of Thoroughbreds at $500,000 per service. (That is half a Million dollars to get your mare in foal!). One Cool Cat not too familiar in Australia as he shuttled from the Northern Hemisphere to Cambridge Stud in New Zeland. A dual Group 1 winner juvenile champion European 2 yr old colt One Cool Cat was the highest priced yearling sold in the USA in 2002 at $3,100,000.Jockey Michael Kinane described One Cool Cat as having "more natural speed than any other Storm Cat I ever sat on".
At the NZ National Premier Yearling Sales at Karaka in 2008 a One Cool Cat x Diamond Cashel filly achieved second top priced lot at $925,000. One Cool Cat x Tricia Ann filly sold for $840,000. One Cool Cat was the Leading NZ Based First Season Sire for the 2008 National Yearling Sales with an aggregate of $4,625,000 and an average of $192,708.
Areyoutalkintome (NZ) is out of a New Zeland mare by the Sadler's Wells son, Montjeu (IRE). Montjeu Winnings: 16 Starts: 11 - 2 - 0, $3,848,514. He was head of the 1999 International 3YO Classification & World Champion European 3YO Colt. Retired to Coolmore Stud in Ireland Shuttled to New Zealand. Montjeu also the sire of Green Moon (IRE), Melbourne Cup winner & $5.3Million.
He died at age 16. A statement from Coolmore after his death read: "Montjeu, the highest-rated racehorse ever by the great Sadler's Wells, has died this morning at Coolmore Stud after a short illness, which was due to complications from an overwhelming septicaemia."The sire of three Epsom Derby winners including last year's brilliant winner Pour Moi, as well as Camelot, the favourite for this year's edition, Montjeu was one of the best stallions in the world and in 2011 he sired 15 individual Group/Graded winners in the northern hemisphere, which was the equal of Galileo.
"Montjeu will best be remembered for his incredible wins in the Prix de l'Arc de Triomphe and King George VI and Queen Elizabeth Diamond Stakes as well as his runaway victories in the French and Irish Derbies."
More can be read on this amazing champion sire at wikipedia link here
There is PLENTY of class, speed and stamina in this young mare's genetics. Unraced, her halves are multiple racewinners. Bred to Moonlark, he future foal will have a 3 x 4 duplication of Mr Prospector. Don't wait too long to pick up the phone or send an email or she will be gone.
Pictured first below is Areyoutalkintome (NZ) sire, Storm Cat son One Cool Cat (USA).
Official Australian Stud Book Pedigree
Storm Cat (USA) 1983

Storm Bird (CAN) 1978
Terlingua (USA) 1976

One Cool Cat (USA) 2001
Foal ref: :

Tacha (USA) 1992

Mr. Prospector (USA) 1970
Savannah Dancer (USA) 1982

Areyoutalkintome (NZ) 2007
Foal ref: 31:1246

Montjeu (IRE) 1996

Sadler's Wells (USA) 1981
Floripedes (FR) 1985

Seraphina (NZ) 2002
Foal ref: 30:486

Greta Hall (NZ) 1994

Kaapstad (NZ) 1984
Lovenvain (AUS) 1980