Quality doesn't cost....it pays!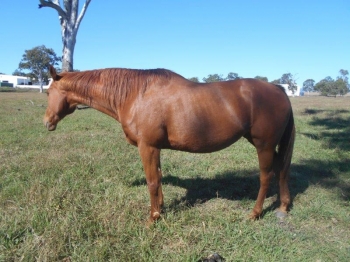 Atlantic Dame (USA)
2004 Imported ASB chestnut mare
Well what do we have here! Out of Lemon Drop Kid (USA) - five times Group 1 winner and 10 wins $US3.2Million in stakes. She raced in Great Britian four times with no avail. Then back to USA where she ran five races with a Win, a second, two thirds, and a fourth!
Her broodmare sire is Overstake (CAN) 24 wins. Canadian Horse of the Year in 1978 & 1979. Canadian Hall Of Fame inductee, 1993.
She was a $USD160,000 yearling and her first live foal is a Star Witness filly & followed by a Big Brown progeny both young and yet to race.
Official Australian Stud Book Pedigree
Kingmambo (USA) 1990

Mr. Prospector (USA) 1970
Miesque (USA) 1984

Lemon Drop Kid (USA) 1996
Foal ref: 96:79

Charming Lassie (USA) 1987

Seattle Slew (USA) 1974
Lassie Dear (USA) 1974

Atlantic Dame (USA) 2004
Foal ref: EL:20120924

Overskate (CAN) 1975

Nodouble (USA) 1965
Overstate (USA) 1969

While Rome Burns (USA) 1987
Foal ref: 87:280

Fiddlesticks (USA) 1976

Northern Dancer (CAN) 1961
Discipline (USA) 1962