Quality doesn't cost....it pays!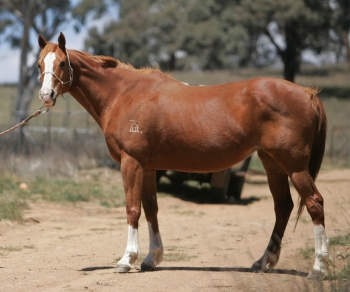 Belle Of Beguine
SALE PENDING 1999 w20 Chestnut ASB mare
This big 16.2hh mare was a performance mare. She is by the Rory\'s Jester son, Ooh Rory and where most of her bling comes from. She is in foal to the All White ASB TB colt, Great Caesar Ghost who is a Profile IN Style (USA) son. His picture is last below. We beleive she will throw a white or nearlly all white ASB TB foal as the same coloured mare produced just that to a Stallion with much less white than Great Caesar Ghost (see middle two pics below). She comes with a live coloured ASB TB foal guarantee. This mare and future foal will race, show or event. And at the bargain price of $3300 o.b.o. you can do it all!
Official Australian Stud Book Pedigree
Rory\'s Jester (AUS) 1982

Crown Jester (AUS) 1978
Rory\'s Rocket (GB) 1973

Ooh Rory (AUS) 1991
Foal ref: 38:567

Gentle Sigh (IRE) 1971

Whistling Wind (IRE) 1960
Belen (IRE) 1963

Belle Of Beguine (AUS) 1999
Foal ref: 41:1709

Wolverton (IRE) 1976

Wolver Hollow (IRE) 1964
Mary Murphy (GB) 1960

Steeple Belle (NZ) 1983
Foal ref: 25:846

Glamour Belle (NZ) 1977

Taipan (USA) 1963
Stellar Belle (NZ) 1963