Quality doesn't cost....it pays!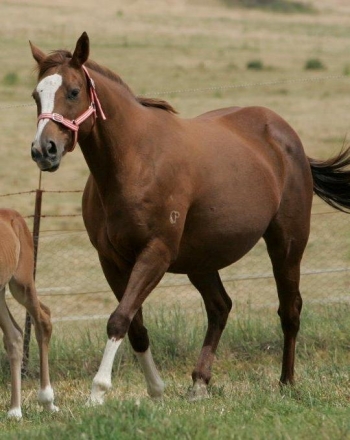 Coldstream Candy
STOCKHORSE plus ASB Thoroughbred mare 1994 in foal to GLACIAL GOLD (USA)
Candy is now in foal to Glacial Gold for a guaranteed palomino Stock Horse plus ASB TB!! She is an amazing mare and a faboulous producer of such typey stock. She is stock horse registered and foal is eligible full stock horse registration with competition status. Of course main ASB registration that should race with the best of them.
Coldstream Candy also has rabicano ticking throughout her flanks, barrel and rump. She should produce the deepest gold (almost chocolate) palomino foal.
THAMEEN (USA)

ROBERTO (USA)

HAIL TO REASON (JC)

TURN-TO (IRE)

NOTHIRDCHANCE (USA)

BRAMALEA (USA)

NASHUA (USA)

RARELEA (USA)

SECRETARIAL QUEEN (USA)

SECRETARIAT (USA)

BOLD RULER (JC)

SOMETHING ROYAL (JC)

NICOMA (USA)

NASHUA (USA)

HASTY FLIRT (USA)

CANDALITA (AUS)

NEW REGENT (CAN)

VICE REGENT (CAN)

NORTHERN DANCER (CAN)

VICTORIA REGINA (USA)

DOBBINTON (USA)

NEW PROVIDENCE (USA)

FLAMING ISSUE (USA)

MAORI HEELS (AUS)

HEAD OVER HEELS (FR)

BALDRIC (USA)

FALL IN LOVE (USA)

MAORI RHYTHM (AUS)

SOSTENUTO (ITY)

RAHUI (NZ)
Download Info