Quality doesn't cost....it pays!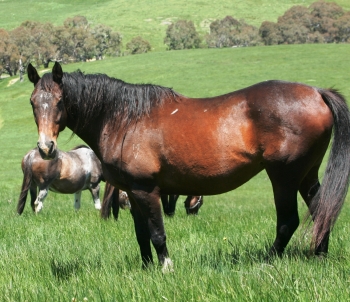 Devali (NZ)
2001 ASB Thoroughbred mare
This imported racewinning mare is really special. She has a nature that you don\'t find everyday. She is so kind and soft that she even adopts orphan foals and happily lets them suckle with her own foal. What a fabulous gentle mare. She is truly a girl to consider if you want to breed foals that you enjoy every moment with. She is being bred to Glacial Gold (USA) for a buckskin or palomino ASB foal. She is at a great price due to her age (15 years old). This future foal should be as nice on the inside is it is on the outside!!
Official Australian Stud Book Pedigree
Green Desert (USA) 1983

Danzig (USA) 1977
Foreign Courier (USA) 1979

Desert Prince (IRE) 1995
Foal ref: 43:816

Flying Fairy (GB) 1983

Bustino (GB) 1971
Fairy Footsteps (IRE) 1978

Devali (NZ) 2001
Foal ref: 30:681

Canny Lad (AUS) 1987

Bletchingly (AUS) 1970
Jesmond Lass (AUS) 1975

Lakshimi (NZ) 1992
Foal ref: 27:806

Latour Belle (NZ) 1986

Nuage D'Or (USA) 1982
Heidi Belle (NZ) 1976

Family: 18
Taproot: Manto (GB) 1822