Quality doesn't cost....it pays!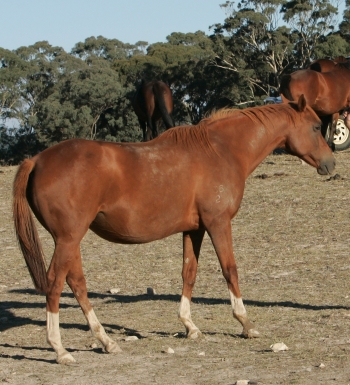 Donna's Star
2002 Chestnut ASB in foal to Glacial Gold (USA)
Beautiful and super sweet Intergaze mare who is in foal to Glacial Gold (USA). She has a temperament of a childs hack as is aprox 15hh. She has the head / looks of an anglo arabian. An allrounder future foal guaranteed to be palomino. Mare comes with a live palomino coloured ASB TB coloured foal guarantee.
Her sire Intergaze is a winner of $3.7Million Dollars. Intergaze\'s broodmare sire is Temperance Hill - a son of Stop The Music who is out of the Tom Fool daughter (and matriarch) Bebopper. Glacial Gold\'s 8 times racewinning second dam is by multiple Group winning Hatchet man, whom is also out of Bebopper. A lovely sex balanced duplication of this high class blue blood matriarch and a proven breeding strategy for inherent speed and stamina.
Beboppers sire, Tom Fool, was USA\'s champion sprinter, champion 2yo colt,HOTY & leading broodmare sire in Great Britian & Ireland. Bebopper was the dam of 11 winners - her two best being in the pedigree of this future foal - Stop The Music $448,000 & Hatchet Man $348,000 - (winning this prizemoney in the 1970\'s!!!).
Donna's Stars maternal sire is Bluebird (USA) - Champion 3yo Sprinter in Ireland. Sire of Sports Works $442,000 & Dolphin Street (FR) 3.5MillionFF.
This mare is a great looking mare and with her very kind nature we couldn't pass her up. Four white legs evenly marked adds to her appeal. A super kind mare suitable for the children . Due to foal September 2015. Foal is Racing NSW BOBS eligible . Payment plans available.
Download Info