Quality doesn't cost....it pays!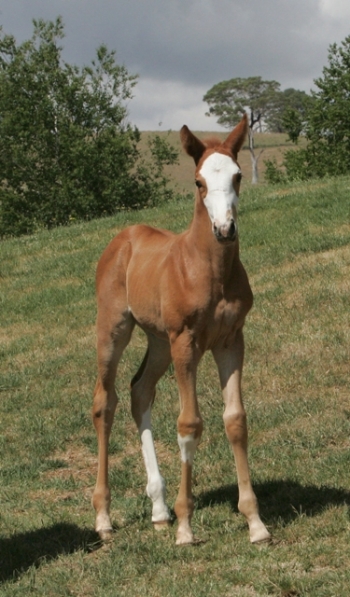 Frameous
2012 Chestnut Frame Overo ASB Colt
Once again this pedigree match made in Heaven has come up with the goods. This guy is put together as good as they get. A mini Profile in type and a minimal frame overo who is eligible full stock horse registration, Paint Horse of Australia registration. American Paint Horse Association rego (there are classes in Australia for American registered horses) as well as the most important FULL AND REGULAR ASB REGISTRATION, with his 4 x 4 duplication of both HALO / HAIL TO REASON (SIRE OF HALO) & SECRETARIAT 'Johnson' should be able to have a stellar race career.
This combination of sire and dam is superb. Whatever your discipline this guy will be a forced to be reckoned with in any and all!! Priced amazingly as he is minimally marked (coloured) though he will be capable of producing a lot more colour and coupled with his amazing type and outstanding pedigree he will be a serious sire for the future.
PROFILE IN STYLE (USA)

ELLUSIVE QUEST (JC)

SONNY'S SOLO HALO (JC)

HALO (JC)

SOFTLY (JC)

PATCHY LASSY (JC)

PESTY AXE (JC)

LUEY MISS (JC)

DANCE DUB L (USA)

SHANTARIAT (USA)

SECRETARIAT (USA)

BANNOCK WAR (JC)

DANCE SPOT (USA)

DANCEBEL (USA)

STUN (USA)

COLDSTREAM CANDY (AUS)

THAMEEN (USA)

ROBERTO (USA)

HAIL TO REASON (JC)

BRAMALEA (USA)

SECRETARIAL QUEEN (USA)

SECRETARIAT (USA)

NICOMA (USA)

CANDALITA (AUS)

NEW REGENT (CAN)

VICE REGENT (CAN)

DOBBINTON (USA)

MAORI HEELS (AUS)

HEAD OVER HEELS (FR)

MAORI RHYTHM (AUS)