Quality doesn't cost....it pays!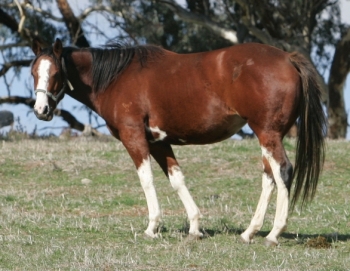 Glove & Stockings mare WCF
2013 Bay Dominant White ASB filly
Her first buckskin colt was a knockout type and sold as a weanling. She is broken in and is as bombproof as you will get. She's a bit lazy which I love rather than one of those hot headed varieties. She won't pull as she's happy to pull up! and LOVES water.
This girl would be perfect for dressage or eventing or of course to continue on a rare and beautiful coloured breeding program. Rarely would a mare this good be available for sale. She's so valuable for what she produces in mind and body as well as colouring. she carries the rare Dominant White gene of the Colourful Gambler lineage. Being by Highrail Curious - an ASB jumping stallion and out of a mare that was inbred to the mightly Bletchingly (Biscay - Star Kingdom) . No wonder this girl is so divine.
In foal for a 2017 foal by Glacial Gold (USA). We can\'t wait! Broken in but not tried on the track.
Glove And Stocking (AUS) 2013
| | | |
| --- | --- | --- |
| Life Number: AUS01084185 | bay filly | Date of Birth: 24/09/2013 |
| | | |
| --- | --- | --- |
| Microchip Number: 985100012042528 | | DNA Typed: Y |
| | |
| --- | --- |
| by High Rail Curious (AUS) 2004 | |
| | | |
| --- | --- | --- |
| from Mia Bambina (AUS) 1996 | | |
| | |
| --- | --- |
| bred by Winning Colours Farm, NSW | |
Official Australian Stud Book Pedigree
Highrail Danehill (AUS) 2000

Danehill (USA) 1986
Parisianna (FR) 1996

High Rail Curious (AUS) 2004
Foal ref: 41:939

Like A Gambler (AUS) 1996

Colourful Gambler (AUS) 1986
Like A Drop (AUS) 1980

Glove And Stocking (AUS) 2013
Foal ref: :

Millionaire Row (AUS) 1987

Bletchingly (AUS) 1970
Sea Ballad (GB) 1976

Mia Bambina (AUS) 1996
Foal ref: 40:1434

Ti Amo Bambina (AUS) 1992

Salieri (USA) 1980
Ann Juliet (AUS) 1986