Quality doesn't cost....it pays!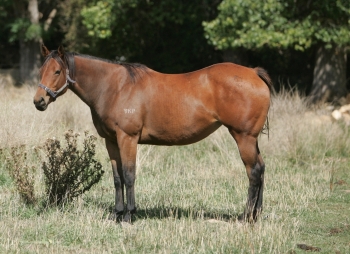 Henny Wonder
2012 Bay mare Henny Hughes x Polissonne
Well, I love her dam so much (Polissonne) that I purchased her only daughter as well. Dam Polissonne only has one named foal and he is a racewinner.
Penny as we call this mare is by Henny Hughes is the sire of USA's Champion 2yo filly, Champion 3yo filly and Champion older female with 17 wins and $4.8Million USDollars in stakes, Beholder. Henny Hughes (Hennessy - Storm Cat) is such an impressive type and I have included pics of him below (chestnut horse).
The quality of Penny is aparent and we look forward to her producing some great offspring with Moonlark as the maternal line of Henny Hughes' Beholder is Clever Trick as is Moonlarks materal line.
And in fact we've produced a colt that is about as typey for sprint racing as you'll get. He's a knockout. OUr retirement means this young mare is avaiable with so much substance she's a no brainer.
Download Info