Quality doesn't cost....it pays!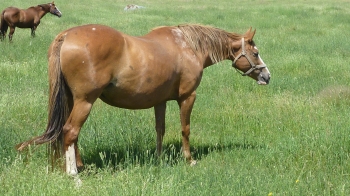 Hero's Bell
2002 Flaxen Chestnut ASB mare + Quarter Horse registered
Such a lovely girl. ONly small about 14.3 - 15hh so perfect for breeding smaller show thoroughbreds. I don't expect this one\'s progeny to be a racing prospect, but for anything else this girl is a gem. Happy to do anything you ask of her, she is a real pleasure. A very domesticated thorougbred!! Plenty of unusual white going on everywhere! She is in foal to Hagia Sophia for a super special coloured tb.