Quality doesn't cost....it pays!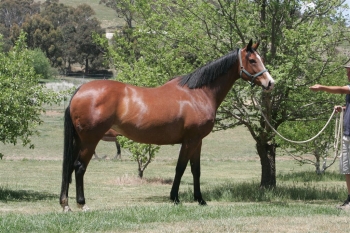 Iadore Diamonds
2004 Bay ASB TB mare in foal to Moonlark (USA)
Iadore Diamonds would be a supermodel if she were human. She is a big strong mare and bred very well. She is by Nuclear Freeze (USA) who is a full brother to Danehill. Unraced, her dam ran a second, third and fourth in her last three starts of just seven starts. She has had two unbelievably beautiful foals to Glacial Gold for her then owner (a buckskin colt and a paly filly - see last pic below). We love them and her so much that we were able to repurchased her now her previous owner has two amazing progeny. With Seattle Slew and Mr Prospector on her Maternal side, she is a fabulous mare and compliments all of our Stallions. If you want it all in the one horse she may be exactly what you're looking for.
Download Info