Quality doesn't cost....it pays!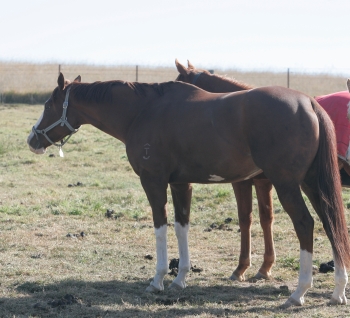 Ishiever
2004 Chestnut ASB mare
Well what a find! With the temperament of an Angel and a body to win a Royal Hack Championship. It doesn\'t get much better than this...read on...
This mare was brought to our attention some three years ago. Since that time she has gone on towin 9 races. Her dam was a winner of 16 races and her grandam a winner of 4 races. This mare\'s speed and stamina is heavily ingrained in her genes.
Not only this, she is by the Danzig stallion (sire of Danehill) Ishiguru who was a $1.15Million yearling. Hailed as a top class sprinter by his trainer Aidan O'Brien of Ballydoyle, only to have his campaign halted by injury after his impressive start of 9 Starts: 3 - 3 - 0, £81,722 which include Group and listed wins. He sadly died due to complications after a knee injury shortly after his stud career began, therefore he did not attain the huge success and commercial appeal that many foal crops would have no doubt delivered. The ability of his limited offspring is quite astounding and should not be overlooked. Ishiguru is also the sire of the very fancy Sammy's Falcon – winner of over $275,000 and still racing in Asia as at April 2012.
ISHIGURU (USA)

DANZIG (USA)

NORTHERN DANCER (CAN)

NEARCTIC (CAN)

NATALAMA (USA)

PAS DE NOM

ADMIRAL'S VOYAGE (USA)

PETITIONER (GB)

STRATEGIC MANEUVER (USA)

CRYPTOCLEARANCE (USA)

FAPPIANO (USA)

NAVAL ORANGE (USA)

PRAYER WHEEL (CAN)

CONQUISTADOR CIELO (USA)

HALO REPLY (USA)

MISTINQUETT (AUS)

SWITCH IN TIME (IRE)

KRIS (GB)

SHARPEN UP (GB)

DOUBLY SURE (GB)

MATCH BEND (USA)

NEVER BEND (USA)

MATCH GAME (USA)

RED REBEL GIRL (AUS)

RIVOTIOUS (USA)

RIVERMAN (USA)

GLORIOUS SONG (CAN)

SWIFT SHOT (AUS)

COUP DE DEU (GB)

MAGRINA (FR)