Quality doesn't cost....it pays!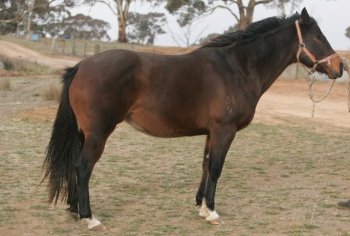 Jennifer Jo
2009 ASB TB mare
OK . So I guarantee hands down that this is THE nicest natured, most bomproof mare ever in the history of me handling horses. I cannot rate this mare highly enough. Her foals are worthy of kids mounts they are that sensible and unreactive. This poor mare came to us with one eye and sustained a kick injury (on the good eye side) when her then owner requested she be with the other mares.
This mare won a barrier trial by FIVE lengths. She has speed to burn and I've never known a TB mare to look more like a quarter horse than many quarter horses! She is all bulk. Her first foal for us is a knockout and he has a temperment that is making me want to keep him for my daughters future mount. As an unhandled foal you could worm him in the paddock without a halter on. As a yearling I could rug and unrug him without catching him and when you have a paddock of colts that aren't handled regularly, this is rather special. Touching his back legs is like patting him on the neck. He just enjoys it! He gets plenty of sensibility from Moonlark (the best stallion in the World!!), but this mare makes the offspring a next level joy in every aspect.
It just doesn't get nicer and more pleasant to handle a horse than this mare or her offspring. Jennifer Jo is named after her late owner and how we acquired her. I honestly don't think I can part with this mare but if you see her offspring availabe for purchase you should jump all over it (and you could literally!, it wouldn't care!!)
She has muscle wastage on her rump from a broken hip and the right eye is descintergrated. But this is the dream mare in every other aspect.
She is by Snippetson and out of a Favorite Trick mare (the only horse since Secretariat to be named Horse Of The Year while still a 2yo). See her catalogue pedigree below. Sadly her dam died young and with her eye injury and not racing the page isn't a true representation of the absolute ability of her and her family.
Download Info