Quality doesn't cost....it pays!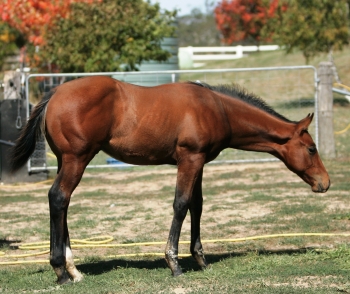 "Johanson"
SOLD 2017 ASB Bay colt
Well, well well, what do we have here. Pictured at under 3.5months old this Moonlark (USA) colt is a cracker.
His dam is a ripper mare by Snippetson whom won her trial by five lengths. An eye trauma saw her end her career and she has only one eye now. Thankfully this doesn't impede her terrific broodmare abilities as evident in this colt. She is built like a quarter horse and so is this foal. A sprinting career awaits.
Johanson or Jo as he is affectionately known has an incredible pedigree with Jennifer Jo's broodmare sire being Favorite Trick (USA) - who is the only horse since Secretariat to be named Horse Of The Year while still a 2yo. Moonlark's broodmare sire is Favorite Tricks sire, Phone Trick. So Jo has a 3 x 4 duplication of Phone Trick.
Gone West (USA) 1984

Mr. Prospector (USA) 1970
Secrettame (USA) 1978

Moonlark (USA) 2007
Foal ref: EL:20150512

Laptop (USA) 1996

Phone Trick (USA) 1982
Roll Over Baby (USA) 1989

Johansen (AUS) 2017
Snippetson (AUS) 2001

Snippets (AUS) 1984
Snowdrift (FR) 1994

Jennifer Jo (AUS) 2009
Foal ref: 43:1038

Our Favorite Miss (AUS) 2002

Favorite Trick (USA) 1995
Miss Jugah (AUS) 1993