Quality doesn't cost....it pays!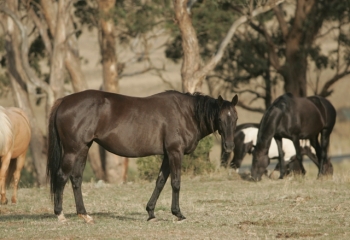 Lady Bernice
1999 Black mare
With a double cross of Star Kingdom is where her unusual white belly patch comes from I suspect. She also has two back socks and a star.
She is a true black mare with great bone and although not current commercial race lines her sire Sir Bernard is a Group 3 winner of the Newmarket Handicap. Her dam is by Bletchingly stallion, Zapotia.
A quality mare in type.
Official Australian Stud Book Pedigree
San Bernadino (AUS) 1978

Kaoru Star (AUS) 1965
Belle Sovereign (NZ) 1971

Sir Bernard (AUS) 1989
Foal ref: 37:3660

Sweet Lassie (AUS) 1974

Sweet Moss (GB) 1961
Our Corinth (AUS) 1962

Lady Bernice (AUS) 1999
Foal ref: 41:961

Zapotia (AUS) 1979

Bletchingly (AUS) 1970
Mursalat (AUS) 1965

Lorrha Bess (AUS) 1992
Foal ref: 39:1133

Rebbora (AUS) 1980

Rebel God (GB) 1971
Theora (AUS) 1970