Quality doesn't cost....it pays!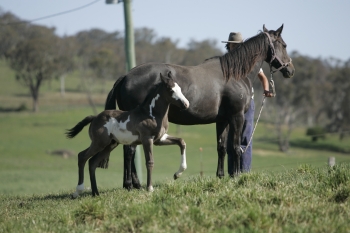 Larissa
2009 ASB mare Homozygous black gene
Larissa is a superb producer. Three frame overo foals from three coverings. Her foals are out of this world in colour, type and most important, temperament. Her foals are probably some of the best natured foals I have ever come across. Straight up to you in the paddock and willing to please plus unflappable. Pictured below in this listings gallery are some of her foals. She is in foal to Got It In Vegas for a full sibling to the black and white colt first pictured below, Darby Day. Don\'t miss this opportunity to get it all.
Official Australian Stud Book Pedigree
Rubiton (AUS) 1983

Century (AUS) 1969
Ruby (AUS) 1977

Buriton (NZ) 1993
Foal ref: 27:1113

Penny Row (AUS) 1984

Bletchingly (AUS) 1970
Harmony Row (AUS) 1971

Larissa (AUS) 2009
Foal ref: 43:1424

Futuristic (AUS) 1981

Osmunda (AUS) 1967
Gloriana (AUS) 1974

Sunny Future (AUS) 1997
Foal ref: 40:1381

Sunny Consuela (AUS) 1989

First Consul (USA) 1970
Pacific Sun (AUS) 1976

Family: 22c
Taproot: Steady Glass (GB) 1926