Quality doesn't cost....it pays!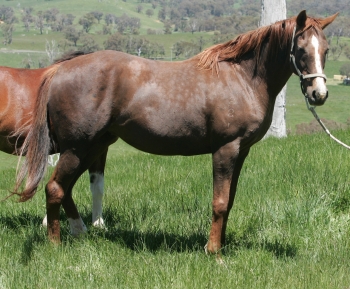 Last Anchor
2001 ASB Thoroughbred mare
This girl is truly divine. Super 'Elle Macpherson' legs (aka LONG!). She is from the last crop of Red Anchor (NZ) (Australian Horse Of The Year 1985) Amongst his major wins were the 1984 MVRC W.S. Cox Plate, 1984 VRC Victoria Derby and the 1984 VATC Caulfield Guineas. His promising career was cut short by injury and he was retired from racing during his three-year-old season. Red Anchor was euthanized on 10 April 2001 after fracturing a front leg so he did not attain commercial status at Stud, however his modest number of offspring have done very well including Navy Seal winner of the 1994 AJC Epsom Handicap.
We feel this girl and her offspring are more suited to the elite show circuit. This mare has an extremely docile nature that is hard to find. Catching or doing anything with is so easy and pleasurable. She will be a mare you will want to keep on and she had done just that with her previous owners. She is a maiden mare at the age of 15 as she was a pet she is just so nice to have around. You won\'t beleive how nice a nature this mare has until you witness it yourself. Mares like this don't come around too often - the complete package in every way.
Official Australian Stud Book Pedigree
Sea Anchor (IRE) 1972

Alcide (GB) 1955
Anchor (GB) 1966

Red Anchor (NZ) 1981
Foal ref: 25:540

Decoy Girl (GB) 1973

Decoy Boy (IRE) 1967
Red Robe (GB) 1958

Kendor (FR) 1986

Kenmare (FR) 1975
Belle Mecene (FR) 1982

Mabelle (AUS) 1991
Foal ref: 38:1340

River Nile (USA) 1984

Riverman (USA) 1969
Just A Kick (USA) 1972

Taproot: River Nile (USA) 1984