Quality doesn't cost....it pays!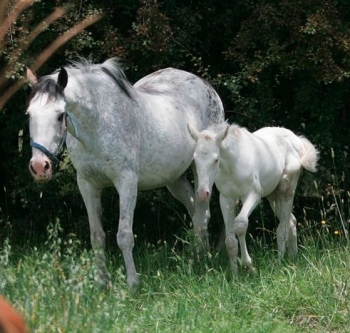 Laughyoumay
sold
2001 White ASB Thoroughbred Mare in foal to Moonlark (USA). This Dominant White Category 22 thoroughbred mare is the first DW22 in the entire world. She has a quality race pedigree. Her sire Sky Chase is a winner of three Group 1 races, three Group 2 races and two Group 3 races. He is also the sire of Saintly who won four Group 1 races including the Melbourne Cup and $3.8Million
Her siblings have won in the discipline of dressage and seeing her most impressive light and buoyant movement this comes as no surprise.
She is a refined thoroughbred mare with lovely long legs and a tremendous length of rein. Race, show or performance shall all be on her foals career possibilities.
This foal will have the same broodmare line as Encosta De Lago!
Foals pictured are her previous foal by Profile IN Style (USA). First Below is maximum frame overo as well as a Dominant White. He is pure white with two blue eyes. As white thoroughbreds with only one colour gene (sabino, or dominant white) have dark eyes, He could be the only one of his kind in the World. Frost (see index pic above is dominant white and a medicine hat. Her third full sibling to the foals pictured is Due November 2015.
Very rarely does a horse like this exist let alone come on the market. This super unique girl will produce your dream horse in type, temperament, talent and COLOUR. Payment plans accepted.
Laughyoumay does have a prominent sway back that is not genetic.
SKY CHASE (NZ)

STAR WAY (GB)

STAR APPEAL (IRE)

APPIANI (ITY)

STERNA (GER)

NEW WAY (GB)

KLAIRON (FR)

NEW MOVE (GB)

VICE REINE (NZ)

AMALGAM (USA)

DAMASCUS (USA)

CHARMING ALIBI (USA)

KIND REGARDS (NZ)

LE FILOU (FR)

WAFT (NZ)

HARRISBURG (NZ)

DIAGRAMTIC (USA)

SIR WIGGLE (USA)

SADAIR (USA)

WIGGLE (AUS)

MISS SUZY (CHI)

AGASAJO (ARG)

MISS VATELLOR (FR)

CAPTIVATE (NZ)

DIPLOMATIC AGENT (USA)

ENVOY (USA)

ROYAL RHYME (USA)

SALLY CLIPSE (NZ)

HENRY'S CHOICE (GB)

CHANITA (NZ)