Quality doesn't cost....it pays!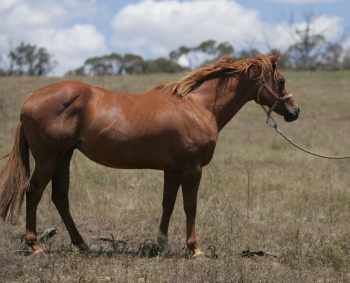 Learcat
2007 ASB mare IFT Gold Heart (AUS)
I adore this mare so much. We get on like a house on fire! She is an exciting pedigree match with first season sire, Gold Heart (USA). Future foal with a lively 2 x 3 iduplication of Lion Heart. I do prefer a 3 x 3 but 2 x 3\'s of the champions can, and often, work very well (2017 stakes winner Bons Away with a 2 x 3 duplication of Belong To Me as an example).
NOt only this but Gold Heart is an impressive son of Glacial Gold (USA) and out of a tremendous mare Heart Of Ishtar who herself is inbred 4 x 4 to both Mr Prospector and Storm Bird (Sire of Storm Cat and broodmare sire of Thunder Gulch). Her first and only foal to hit the track a multiple racewinner.
Palomino pics below are of covering sire as a foal and as a young 2yo in the paddock unwashed and unbrushed!