Quality doesn't cost....it pays!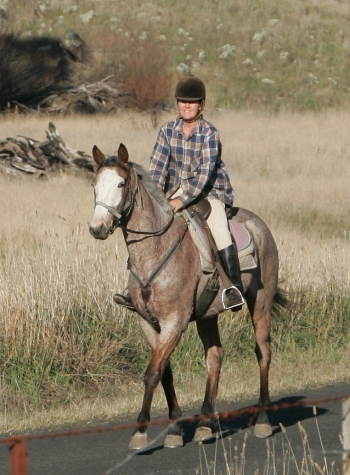 Lilac In Style
2012 Bay (true) Roan Overo ASB TB filly
This World first roan overo Thoroughbred is a grand daughter of World renowned Slip Catch - the first true roan in the History of Thoughbreds. She is by the brindle sire Catch A Bird (see pic of him as a yearling going through the NZ sales).
She is in foal to Glacial Gold (USA) for hopefully the World\'s first treble - smokey blue or buckskin + roan + overo Thoroughbred.
She is a wonderful type and the future foal will be so much more than the rarest coloured Thoroughbred on the planet!
Official Australian Stud Book Pedigree
Ellusive Quest (USA) 2000

Sonny\'s Solo Halo (USA) 1984
Patchy Lassy (USA) 1989

Profile In Style (USA) 2006
Foal ref: EL:20140124

Dance Dub L (USA) 1997

Shantariat (USA) 1982
Dance Spot (USA) 1992

Lilac In Style (AUS) 2012
Foal ref: 43:790

Zedrich (AUS) 1992

Zeditave (AUS) 1985
Rich Haul (AUS) 1984

Lilac Hill (AUS) 2000
Foal ref: 41:1627

Slip Catch (AUS) 1993

Catch A Bird (NZ) 1982
Golden Belt (AUS) 1976