Quality doesn't cost....it pays!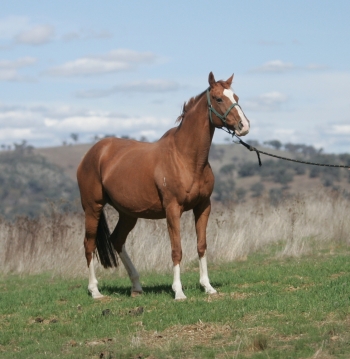 Magic Benbara
2000 ASB Thoroughbred mare
Magic Benbara produces masses of white even when the sires are solid bay. She has only ever thrown horses with four high white stockings 100% of the time including the colt pictured in hand below.
She is a lovely tall Thoroughbred mare standing at around 16.2hh. She is in foal to Hagia Sophia for a superb coloured foal suited to just about anything. Colour is guaranteed with this mare!!
Official Australian Stud Book Pedigree
Sadler\'s Wells (USA) 1981

Northern Dancer (CAN) 1961
Fairy Bridge (USA) 1975

King Of Kings (IRE) 1995
Foal ref: 43:2714

Zummerudd (IRE) 1981

Habitat (USA) 1966
Ampulla (IRE) 1974

Magic Benbara (AUS) 2000
Foal ref: 41:498

Rubiton (AUS) 1983

Century (AUS) 1969
Ruby (AUS) 1977

Encantada (AUS) 1992
Foal ref: 39:71

Aussie Consul (AUS) 1983

Adraan (GB) 1977
Oonalee (NZ) 1976

Family: 2r
Taproot: Miss Kate (GB) 1873