Quality doesn't cost....it pays!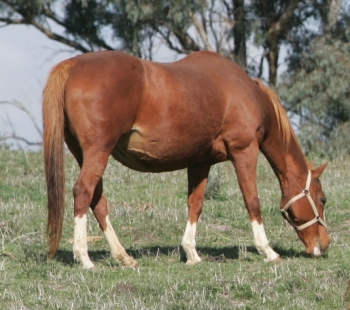 Marsh Harrier (USA)
1998 imported JC & ASB Thoroughbred mare
This mare's nature is simply amazing. She is a treasure and loved dearly by us. Her fourth dam is Fanfreluche - matriarch of Encosta De Lago, Holy Roman Emperor, Pear Tart, Flying Spur. This is one of the best tail female lines in the World, let alone the Country! Her furture foals can boast fifth tail female Fanfreluche and with non winning race fillies with same fetching USD$30K alone on this tail female lineage. That is correct. Fanfreluche is so sort after as a tail female influence that you need deep pockets to get one as a racing prospect. she is rather special as her progeny black type and $200K winner. Pictured below are her progeny by WCF stallions. One earmarked by buyer at just weeks old as you can imagine.
Please enquire about her future foal as it won't last long on the market.
WOODMAN (USA)
MR PROSPECTOR (USA)
RAISE A NATIVE (USA)
NATIVE DANCER (USA)
RAISE YOU (USA)
GOLD DIGGER (USA)
NASHUA (USA)
SEQUENCE (USA)
PLAYMATE (USA)
BUCKPASSER (USA)
TOM FOOL (USA)
BUSANDA (USA)
INTRIGUING (USA)
SWAPS (USA)
GLAMOUR (USA)
SPENDERELLA (USA)
COMMON GROUNDS (GB)
KRIS (GB)
SHARPEN UP (GB)
DOUBLY SURE (GB)
SWEETLY (FR)
LYPHARD (USA)
SWEET AND LOVELY (FR)
SALVORA (USA)
SPECTACULAR BID (USA)
BOLD BIDDER (USA)
SPECTACULAR (USA)
GRAND LUXE (CAN)
SIR IVOR (USA)
FANFRELUCHE (CAN)