Quality doesn't cost....it pays!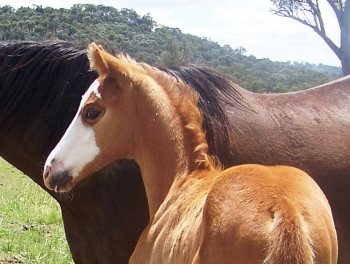 Natural Lover
ASB Thoroughbred 2007
Natural Lover is a wonderful and quality mare with a pedigree to match. She has consistently thrown get which are tall, athletic and exceptional types. Previous progeny with four stockings and a blaze, the other a true black by a bay. And her Profile progeny are all overo. When the bloods click in the overo department, they usually keep clicking!! Unraced, she has a FULL SISTER who is a multiple race winner.
Her bloodlines show real affinities with Profile In Style's the future foal should have a colourful race, performance AND/OR show career - the choice is yours.
The chestnut filly foal left is her 2010 foal by Profile In Style (USA) and it is an overo! Her 2012 also OVERO with a blue eye. She is in foal for a full sibling due this Summer.
She has proven to be a fabulous way to achieve a top quality coloured thoroughbred without the pricetag and is priced at a fraction of the cost a coloured thoroughbred would attract.
She's a must if you're a type and colour buff on a budget.
NATURALISM (NZ)

PALACE MUSIC (USA)

THE MINSTREL (USA)

NORTHERN DANCER (CAN)

FLEUR (USA)

COME MY PRINCE (USA)

PRINCE JOHN (USA)

COME HITHER LOOK (USA)

ZEPHYR SOUBA (NZ)

ZEPHYR BAY (AUS)

BISCAY (AUS)

HEAVENLY WIND (AUS)

SOUBA (GB)

TAINE (FR)

SERGE DE NIMES (USA)

EN VACANCE (NZ)

ALAZAO (USA)

LYPHARD (USA)

NORTHERN DANCER (CAN)

GOOFED (USA)

LADY REBECCA (USA)

SIR IVOR (USA)

POCAHONTAS (USA)

SUMMER FLING (NZ)

OTEHI BAY (AUS)

BISCAY (AUS)

DENNY LASS (AUS)

SUMMER FLEUR (NZ)

SOVEREIGN EDITION (IRE)

SUMMEROSA (NZ)