Quality doesn't cost....it pays!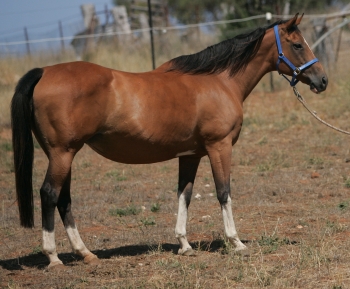 Needletail (IRE)
2000 imported ASB Danehill mare
What an elite mare. Not only is she by Danehill but her dam is a CHAMPION, winning $1.5Million back in the 80\'s. That would be like over $5Million in today\'s money with the prizemoney increases and inflation. WOW! There is even oil paintings of her CHAMPION dam, Indian Skimmer (see the grey in pics below).
This mare has the best kind nature and is a favourite of mine. Had we not be semi retiring, I would keep this mare forever.
And just to top off all this elite pedigree, type and temperament, she has four white stockings and a belly patch.. It is like this mare was made for a Winning Colours Farm elite baby.
She is happily in foal to Moonlark (USA) and she has already produced a 3 x winner from a Gone West son so this foal is all but guaranteed to have race ability, it\'s only the level that is the unknown (provincial? metro? Group? Champion like grandma?). She has so many pedigree prowess\' that impress me: her 3 x 3 to Northern Dancer, Her (tail female) fifith dam a stakes 2yo inbred to The Tetrach, her fourth dam being inbred to Secretariats broodmare sire Princequillo (IRE), she is by the broodmare champion Danehill himself, her dam elite of elites by Storm Bird - the sire of Storm Cat (highest priced Stallion in the History of the World at half a million $ service fee).
Can you beleive we have this mare for sale and at a price that you think you\'ve stole her!!
Download Info