Quality doesn't cost....it pays!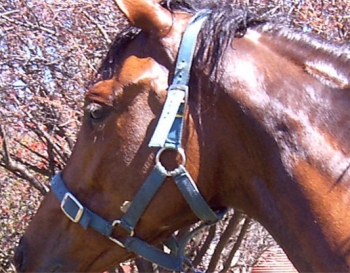 On The Map
Anglo Arabian / Australian Stock Horse 2004
On The Map is a full sister to our broad ribbon specialist - Vapourise. This cross was so successful we went back for more! And we were not disappointed. This mare is the epitome of what an Anglo should be - large round hindquarters, straight correct legs, lovely fine neck set high and a head that you can't take your eyes off.
On The Map is a Royal Show Champion. Her movement being so balanced, rhythmical and floating that from being called in fourth she was awarded first place after her truly breathtaking workout. The judge commenting on her outstanding movement.
This filly has the smoothest of rides and has natural agility, coupled with the most sensible of natures (she was out droving cattle on the second day of ever being ridden!) A brave little girl who never ceases to amaze us with an intelligence beyond her years.
"Prada" is a member of our family and is the reason we love horses. Her nature just as exquisite as her beauty. Once in a lifetime a mare like this comes around and we feel privileged to be her keeper. Horse ownership doesn't get better than this!
MARJA SHAHKIR (AHSA)

AMIR EL SHAKLAN (IMP UK)

EL SHAKLAN (GER)

SHAKER EL MASRI (GER)

ESTOPA

SASCHA (IMP GER)

SAHER (GER)

SMOKY (GER)

SHALANA (IMP UK)

THE SHAH (UK –IMP USA)

FABAH (USA)

BINT FADA (USA)

JAMBALANA (IMP UK)

RISSLAN (UK)

JAMBALAYA (UK)

I'M BARBIE (AUS)

NADEED (USA)

NIJINSKY II (CAN)

NORTHERN DANCER (CAN)

FLAMING PAGE (USA)

PALMISTRY (USA)

FORLI (ARG)

FORESEER (USA)

CREVICE (AUS)

CANVASSER (USA)

T.V. LARK (USA)

FLYING LEGS (GB)

LA CREVETTE (AUS)

NAUTILUS (GB)

CORDON BLEU (GB)
Legend

Australian Studbook
Arabian Horse Society (AHSA)

Australian Pony Stud Book /
Riding Pony / Welsh Pony

Australian Stock Horse Society

Australian Warmblood Horse
Association (AWHA)