Quality doesn't cost....it pays!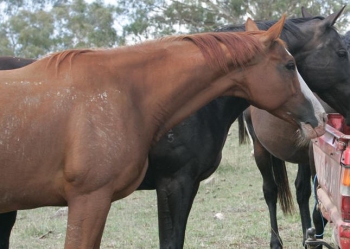 Pashionately Yours
2005 ASB Thoroughbred mare in foal to Moonlark (USA)
We loved this big racewinning mare so much we repurchased her after selling her in foal to Profile IN Style (USA) and her foaling out an amazing coloured filly foal for her owner.
Out of a Rory's Jester mare and her sire, Ombra Della Sera, is by the same stallion as Show A Heart in Brave Warrior (goes back to Bletchingly). She will be joined back to Profile this coming season.
Divine in looks, type and colour plus with racewinning ability she's got the lot.
Official Australian Stud Book Pedigree
Brave Warrior (AUS) 1991

Cossack Warrior (AUS) 1983
Nothing To Do (USA) 1986

Ombra Della Sera (AUS) 1997
Foal ref: 40:1036

Pilgrim's Angel (AUS) 1983

Head Over Heels (FR) 1971
Angelic (AUS) 1965

Pashionately Yours (AUS) 2005
Foal ref: 42:1126

Rory's Jester (AUS) 1982

Crown Jester (AUS) 1978
Rory's Rocket (GB) 1973

Pashionia (AUS) 1994
Foal ref: 39:1018

Pasharette (AUS) 1981

Kaoru Star (AUS) 1965
Acmena (AUS) 1970