Quality doesn't cost....it pays!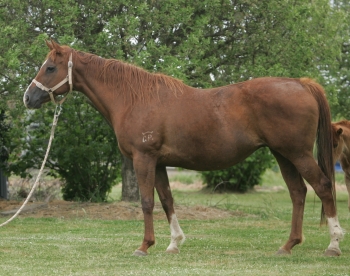 Rap A Heart
2004 ASB mare in foal to Moonlark (USA)
Oh I really do love this mare. A compact sprint type mare. Great length of hip and so do her foals! She is by Show A Heart and is out of a Danehill mare. Breeding doesn\'t get much better than this! She is in foal to Glacial Gold (USA) for a guaranteed palomino ASB foal. This one is sure to race and show very well. Her first foal by Moonlark is pictured below and what a cracking race type! This type in yellow will be super exciting. A mare this good won\'t last long at her great price so if you think she is what you are looking for then please call. Payment plans are available to great homes.
Official Australian Stud Book Pedigree
Brave Warrior (AUS) 1991

Cossack Warrior (AUS) 1983
Nothing To Do (USA) 1986

Show A Heart (AUS) 1997
Foal ref: 40:875

Miss Sandman (AUS) 1988

Regal Advice (NZ) 1980
Misty Morning (AUS) 1976

Rap A Heart (AUS) 2004
Foal ref: 41:1402

Danehill (USA) 1986

Danzig (USA) 1977
Razyana (USA) 1981

Rapturous (AUS) 1995
Foal ref: 40:553

Heavenly Body (NZ) 1985

Grosvenor (NZ) 1979
Astral (NZ) 1976

Family: 1u
Taproot: Astrophelia (FR) 1946