Quality doesn't cost....it pays!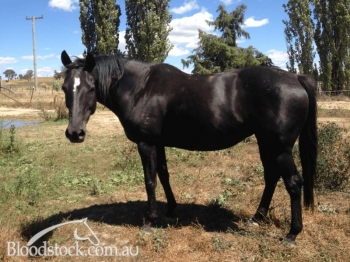 Rooly
SALE PENDING 2004 True Black ASB Mare in foal to Got It In Vegas
Cracking racewinning mare by Jeune only 4 starts with a WIN & Second place. Running second in her last race start there was plenty more ability left in her these stats would suggest. And with her dam a black type mare with five wins, and producer of a black type, it comes as no suprise. This is a \"running\" family. Second dam is a racwinner and producer of 9 foals with 8 of them winners - That\'s 88.9% winners to runners!
She is by Melbourne Cup winner Jeune (GB) $2.9Million winner & 10 wins. A great match for Got It In Vegas for colour and pedigree. His second dam is by Jeune so a nice duplication of this Champion should enliven this Champion\'s blood in the future foal. Also, we know how much Jeune loves Hail To Reason blood that Got It In Vegas carries through his sire Profile In Style (USA). Jeune\'s most successful progeny Alcopop 10 wins & $1.9 Million and Mummify 9 wins & $5.1Million both with this line prominent in their pedigrees.
She is a true black mare and a quality individual in every way. You just can't lose with this colour and pedigree combination.