Quality doesn't cost....it pays!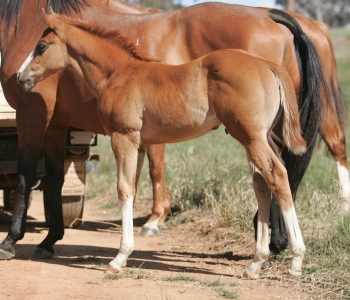 "Sampson The Great aka Sampson"
SOLD 2018 chesnut ASB colt
The most anticipated foal of the season has not disappointed us. In fact OMG muscle and athleticism is an understatement. With his 3 x 3 inbreeding to the Group winning Secretariat mare, Secrettame who is also the dam of Gone West and Lion Cavern; coupled with his 3 x 3 inbreeding of Mr Prospector, we knew this foal would be something special. His pedigree prowess doesn't stop there however, his USA dam Verneau is tail female Lady Josephine (Her daughters Mumtaz Mahal by The Tetrach and her daughter Mumtaz Begum (FR) - dam of Nasrullah (grandsire of Northern Dancer) might be more familiar to you).
Verneau (USA) his dam is stakes performed and her dam, grand dam and third dam are also Group performed and all have bred stakes performed horses.
It doesn't get much better than this, except the knowledge that Frankels first ever foal, Cunco (IRE) (by Chrysanthemum) who was also his first starter and winner also has two 3 x 3 inbreedings as does Sampson. See the below tabulated pedigrees in the pictures. If it's good enough for Frankel, it's good enough for Moonlark! Cunco had 10 Starts, 2 Wins, 1 Second, 2 Thirds, and in the best company and now stands as a Stallion.
So this foal is dynamite in type, catalogue pedigree, tabulated pedigree and performance records. If there ever was a 'sure thing' racewinner I think you're looking at it! Sampson The Great we've named him and his nature is like all the Moonlarks - just tooo darn easy. It doesn't get any better than this for me to rear and care for such a creature.