Quality doesn't cost....it pays!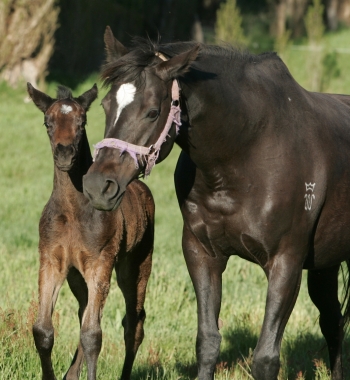 Schmatte
SALE PENDING 1999 Homozygous Black ASB mare
This mare is adorable. She could pass as a show pony with that head. And her body is incredible too! We are thrilled to have sourced this mare for our Stallions and then to offer her in foal to you. She is by Octagonal. I just love Octagonal mares. A rare homozygous black mare she can only throw black to Got It In Vegas and has a 50 / 50 chance of black or bay with Hagia Sophia. Who is she in foal to now you ask?? Call me and find out! (02) 63379269. Our mares are elite, not our prices so why not secure her for your own dream mare.
Official Australian Stud Book Pedigree
Zabeel (NZ) 1986

Sir Tristram (IRE) 1971
Lady Giselle (FR) 1982

Octagonal (NZ) 1992
Foal ref: 27:407

Eight Carat (GB) 1975

Pieces Of Eight (IRE) 1963
Klairessa (GB) 1969

Schmatte (AUS) 1999
Foal ref: 41:539

John\'s Hope (AUS) 1969

Wilkes (FR) 1952
Fraction (AUS) 1956

Fashions (AUS) 1985
Foal ref: 36:3488

Stylee (AUS) 1974

King Apollo (AUS) 1967
Gaylee (NZ) 1966

Family: 7f
Taproot: Gay Lass (GB) 1952