Quality doesn't cost....it pays!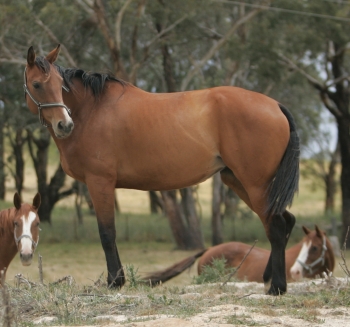 Seeking Chi
2007 Bay ASB mare
This six times racewinning mare & ten placings with almost $100,000 in winnings is by the More Than Ready son, Benicio - Group 1 winner & just under $1Million.
Her dam is an 8 times racewinning mare & $126,000 by Quest For Fame (GB) - the sire of Dracula, Viscount and 35 stakes winners in the ASB (sure to be many more world wide). A gentle mare and very easy going.
Her second dam is an 8 times racewinner with over $126,000 in stakes. There is plenty of raceability in her genetics.
In foal to Moonlark (USA) Racing NSW BOBS eligible for future foal.
Official Australian Stud Book Pedigree
More Than Ready (USA) 1997

Southern Halo (USA) 1983
Woodman's Girl (USA) 1990

Benicio (AUS) 2002
Foal ref: 41:1011

Mannington (AUS) 1997

Danehill (USA) 1986
Bint Marscay (AUS) 1990

Seeking Chi (AUS) 2007
Foal ref: 42:1219

Quest For Fame (GB) 1987

Rainbow Quest (USA) 1981
Aryenne (FR) 1977

Questamatic (AUS) 1997
Foal ref: 40:226

Charismatic (AUS) 1990

Al Hareb (USA) 1986
Una Volta (FR) 1984

Family: 21a
Taproot: Una Volta (FR) 1984
Career: 25-6-4-6 Prizemoney: $97,895
Last Three Runs
Pos
Date
Track
Dist
Class
Jockey
Br
Wgt
Price
First/Second
2 of 12
23/05/2012
SANH Soft
1500
0 - 78
B Knobel
5
55
$4.40
1 Donovans 1-33.52
1 of 12
6/05/2012
SALE Soft
1400
BM72
V Duric
11
58
$5.50
2 Little Bro 1-24.79
4 of 10
28/01/2012
SANL Good
1600
F&M 0 - 82
J Duffy
8
53.5
$13
1 Spirit Song 1-35.58
Download Info