Quality doesn't cost....it pays!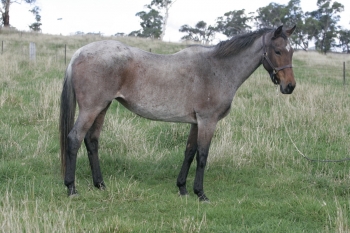 Slip Catch
In foal to Profile In Style (USA)
As the only registered reproducing progeny of the brindle sire Catch A Bird (NZ) this mare is the Matriarch of the registered roan thoroughbreds in existence in the World today.
There is only five living registered mares with the roan gene that is known - Slip Catch, her three daughter, and their offspring.
With her maternal sire Bletchingly himself, and with a daughter being a roan multiple racewinner, this line and her are not just pretty coats.
We look forward to keeping the rarest colour gene in thoroughbreds alive with Slip Catch and her daughters.
With an order in from Europe for a blue roan weanling this will be the first roan thoroughbred in the Northern Hemisphere.
See her daughter Lillac Hill below
CATCH A BIRD (NZ)

NOBLE BIJOU (USA)

VAGUELY NOBLE (IRE)

VIENNA (GB)

NOBLE LASSIE (GB)

PRICELESS GEM (USA)

HAIL TO REASON (USA)

SEARCHING (USA)

SHOWY COUNTESS (NZ)

SHOWOFF (IRE)

WHISTER (GB)

FAIR AMAZON (GB)

SLEEPY COUNTESS (NZ)

COUNT RENDERED (GB)

SLEEPY JEAN (NZ)

GOLDEN BELT (AUS)

BLETCHINGLY (AUS)

BISCAY (AUS)

STARKINGDOM (IRE)

MAGIC SYMBOL (AUS)

COOGEE (GB)

RELIC (USA)

LAST JUDGEMENT (GB)

LITTLE IDA (ZN)

IDOMENEO (GB)

ALYCIDON (GB)

ARIETTA (IRE)

FAST TIME (NZ)

SUMMERTIME (GB)

FASGOLD (AUS)