Quality doesn't cost....it pays!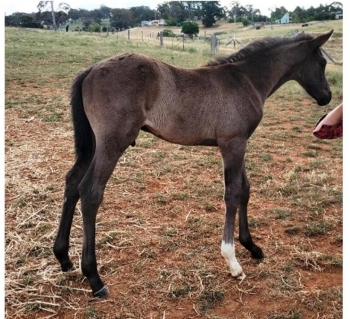 'Sniper'
2018 ASB frame overo carrying black colt
This bloke holds the record for the biggest foal ever born at WCF. His legs just go on forever and he came out 25% bigger than the other foals. Have a look at the last two pics where he is only 1 day old. Incredible. I beleive he will get to 16.3 - 17hh. He is by Got It In Vegas and has the rare frame overo gene meaning he can throw loudly marked frame overo foals in the future. His dam Lady Bernice is genuinly untried on the track as she is unbroken. She is inbred to Star Kingdom and this colt turned out really special. He is built so uphill and with those long legs I think a performance or jumping career he is suited to after his racetrack efforts. I think he has the athleticism and attributes to make it anywhere. He is on special right now as I\'ve just too many horses. His dam is in foal to Palomino Stallion Gold Heart and he can be purchased now on his dam or purchased weaned and on his own. choice is yours. Don\'t let this guy slip away. He has the friendliest nature too. A true black and white with rare frame overo gene ASB TB colt normally doesn\'t come cheap but this bloke is a mere $5500 or on his dam for $6600.