Quality doesn't cost....it pays!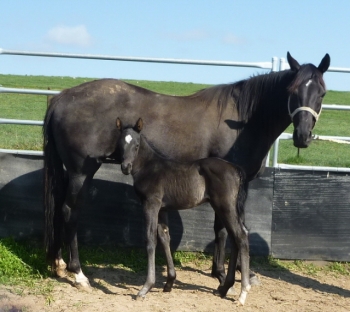 Splashes
2004 ASB Thoroughbred mare
Splashes is a delightful thoroughbred mare and has tested TRUE BLACK. Not only is she a true black but she has very strong rabicano characteristics (flecking on the flanks and barrel). She also carries the sabino gene with her two hind socks.
She is in foal to Profile In Style (USA) and produced our only true black of the season. She could be carrying a rare black and white frame-overo!!! Price will rise with gestation so don\'t delay
| | | | |
| --- | --- | --- | --- |
| Horse Name | Breed | Red Factor | Agouti |
| Splashes | Thoroughbred | eE | aa |
YOUTHFUL LEGS (USA)

EXPLODENT (USA)

NEARCTIC (CAN)

NEARCO (ITY)

LADY ANGELA (USA)

VENOMOUS (USA)

MEL HASH (USA)

SPITEFUL SUE (USA)

YOU'RE MY LADY (USA)

ROBERTO (USA)

HAIL TO REASON (USA)

BRAMALEA (USA)

SPRING ADIEU (CAN)

BUCKPASSER (USA)

NATALMA (USA)

FAIRWATER (AUS)

GRAND LODGE (USA)

CHIEF'S CROWN (USA)

DANZIG (USA)

SIX CROWNS (USA)

LA PAPAGENA (GB)

HABITAT (USA)

MAGIC FLUTE (GB)

MAURITZ (NZ)

HALF ICED (USA)

HATCHET MAN USA)

WINTER MEMORY (USA)

CATHMOI (NZ)

ALVARO (GB)

UNTRIED (NZ)