Quality doesn't cost....it pays!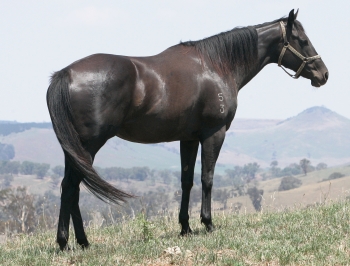 The Scary Ferri
2013 homozyous black ASB TB mare
There is nothing scary about The Scary Ferri! In fact, she is the first one up to you in the paddock. She just stands there to be caught as is easy to do anything with. Just a lovely mare. She has strong dulplications of Princequillo - five crosses and nearly 8% which is almost unheard of in this day. Princequillo was Secretariat's broodmare sire and is the power force behind many mares being strong producers. He is the reason why Secretariat was such a formidable force as a broodmare sire.
So she's got the right horses in the right places and we know this girl will go far. She was a roarer so only made one win and one third in 8 starts Her dam a 7 x winner who produced 100% winners to runners, again proving the quality of the pedigree.
This maiden mare has her whole breeding career ahead of her and is currently in foal to ASB Palomino Stallion, Gold Heart. check out the pdf file as this mare really is a black beauty.
Download Info