Quality doesn't cost....it pays!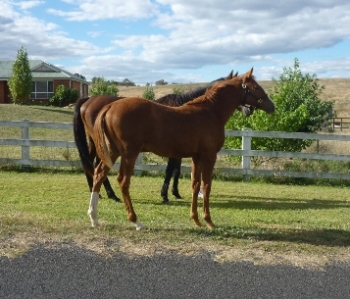 Zabrilliant
2010 chestnut ASB filly
This filly was bred for the track, however when this filly arrived we could not believe our eyes. She is as pretty and exotic as Profile's NSW All Breeds Show Champion Thoroughbred Foal, So In Style.
Zabrilliant will mature 16.2 - 16.3hh and her career possibilities are limitless. Race, dressage, performance or show will all be on her can-do list.Once again Profile has thrown a very leggy filly with a terrific & fine length of rein and a face that you can't take your eyes off.And with plenty of chrome she will stand out in any crowd.
This filly has a quality race pedigree - her maternal sire none other than Zabeel (NZ).Zabeel's grandsire Sir Ivor is by Sir Gaylord, who is a half brother to Secretariat. A sex balanced duplication of this great family coming through with this filly.
This is my favourite filly I have every bred. If you see her in the flesh you'll understand why. She is "zabrillliant" example of our quality breeding program!
PROFILE IN STYLE

(USA)

ELLUSIVE QUEST (JC)

SONNY'S SOLO HALO (JC)

HALO (JC)

SOFTLY (JC)

PATCHY LASSY (JC)

PESTY AXE (JC)

TORCHY'S RAINBOW (JC)

DANCE DUB L (JC)

SHANTARIAT (JC)

SECRETARIAT (JC)

SAKTI (JC)

DANCE SPOT (JC)

DANCEBEL (JC)

STUN (JC)

SOROYA (NZ)

ZABEEL (NZ)

SIR TRISTRAM (IRE)

SIR IVOR (USA)

ISOLT (USA)

LADY GISELLE (FR)

NUREYEV (USA)

VALDERNA (FR)

ULTRA VAIN (NZ)

TRULY VAIN (AUS)

VAIN (AUS)

ARRET (AUS)

VALTAHI (NZ)

VALUTA (GB)

HUATAHI (NZ)